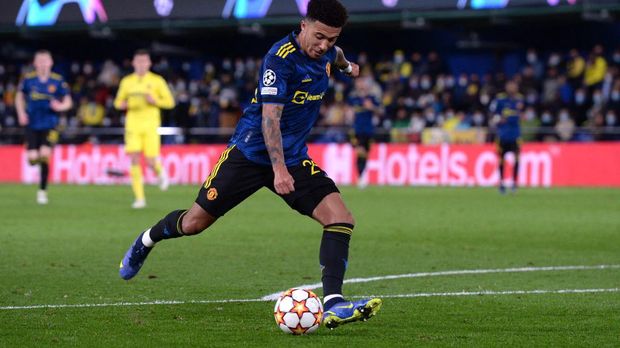 Jadon Sancho performed superbly when Manchester United won at Villarreal headquarters. And what stands out is not just the goal.
The Red Devils, managed by Michael Carrick as caretaker manager, returned from the Yellow Submarine headquarters with a 2-0 win. Tickets to qualify from the Champions League group stage are already in hand.
A number of MU players performed well in that match. Call it David De Gea with, at least, two crucial saves. Also Cristiano Ronaldo, who in the first half his figure was not obvious but kicked off in the second half with his foresight which resulted in the Red Devils' first goal – and almost scored again with the same chip in.
Then there's Jadon Sancho. Since being signed by MU from Dortmund, for a price range of £73 million, the England international has relatively not been able to show his best performance under Ole Gunnar Solskjaer.
In the hands of Michael Carrick, who fielded him from the start, Sancho could immediately show his ability. But his action against Villarreal was not just a 'rocket' shot that solidified a 2-0 victory in the final minutes.
In the first half, when Sancho's front line was still filled with Ronaldo, Anthony Martial, and Donny van de Beek (in the 4-2-3-1 scheme), Carrick instructed high pressing. At that time, MU was relatively minimal in attack creation, although Sancho was quite outstanding with his cruising range, stab attempts with or without the ball, and tactical discipline in controlling space. At least in contrast to Martial's performance – who was then withdrawn in the second half.
In fact, throughout the match against Villarreal, Sancho recorded four tackles. The BBC said that the number was the highest among his team-mates. He also has a successful pass percentage of 92.5 percent, including 24 passes in the Villarreal defense area.
Jadon Sancho even had a chance to score, before actually breaking into Geronimo Rulli's goal. On that occasion Sancho teamed up with Bruno Fernandes, who made a big impact on United's attack after coming on with Marcus Rashford, although the ball could still be blocked by goalkeeper Rulli.
Jadon Sancho's performance against Villarreal really deserves a thumbs up. Moreover, the Red Devils are under the spotlight and pressure, especially regarding the results of the last matches that led to the sacking of Solskjaer.
"Jadon is amazing. He has already received his reward and I am happy for him," Carrick said after the game, as quoted by the BBC.
"It was a big night for him. He was excellent defensively and that goal will give him a big boost. I know he loves it when the ball is at his feet, but the most amazing thing is the effort and what he does with the ball."
"He plays a big role for the team. He is a reflection of how hard we must try. Now it depends on Jadon and how he will continue this performance, a world-class talent," said the MU caretaker.
Paul Scholes, a former Manchester United player who provided match commentary for BT Sport, has a similar opinion. Even the match against Villarreal he called Sancho's best performance since moving to Old Trafford.
"He looks fitter and United's best player. He's a really smart footballer," said Scholes.
"He should be played more often. (But) Playing him in this team is a bit different because he doesn't have the dynamic full-back he had at Dortmund."
Meanwhile Leon Osman, a former Everton player, also praised Sancho's performance in his comments on BBC Radio 5 Live.
"Sancho really deserved the goal, his performance was outstanding," said Osman. "It's difficult to be in a new team with so many expectations, but he has created a lot of chances."
https://ki.instructure.com/eportfolios/4278/Startsida/__
https://ki.instructure.com/eportfolios/4278/Startsida/___2
https://groups.google.com/g/communitas-movie-club/c/8A9fBTW1sAQ
https://groups.google.com/g/communitas-movie-club/c/-bWTRYs93MM
https://groups.google.com/g/communitas-movie-club/c/dD20Nuh-ptQ
https://groups.google.com/g/communitas-movie-club/c/thn4nhhw_VU
https://groups.google.com/g/communitas-movie-club/c/2HYUP5UJrOY
https://ki.instructure.com/eportfolios/4279/Startsida/_HD_1080p
https://ki.instructure.com/eportfolios/4279/Startsida/_HD_1080p_2
https://chibigspiritdoghongkong.talentlms.com/
https://cliffordfullversion.talentlms.com/
https://wakelet.com/wake/QsENiT65SZQqRX5NDb8BF
https://www.accelevents.com/e/rdede55140
https://medium.com/@awdwdfera6/%E5%A4%A7%E7%BA%A2%E7%8B%97%E5%85%8B%E9%87%8C%E5%BC%97-2021-%E5%AE%8C%E6%95%B4%E7%89%88%E5%85%8D%E8%B2%BB%E9%AB%98%E6%B8%85-f64c741b41b3
https://www.accelevents.com/e/clifford#about
https://vk.com/@atstyllermovie123-2021-1080p
https://vk.com/@676080774-2021-hd-1080p-hk
https://vk.com/@676080430-2021-1080p-hktw